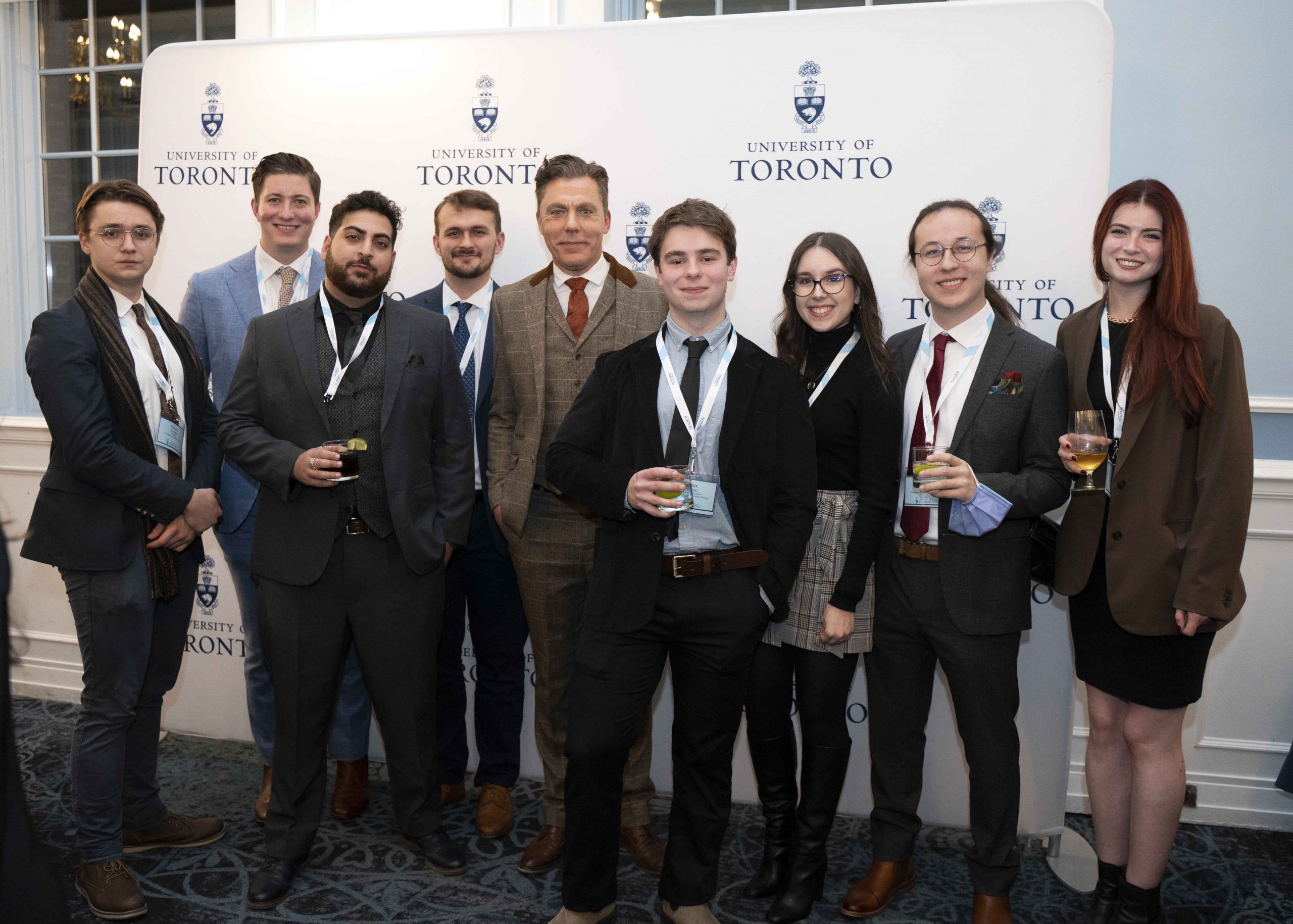 IJB journalists and friends of the Bureau gathered at the University of Toronto's Faculty Club on Nov. 24 to celebrate two years of innovation and achievement.
The event, attended by about 100 academics, business leaders, journalists and supporters, was hosted by Adalsteinn (Steini) Brown, Dean of the Dalla Lana School of Public Health.
Since its launch in fall of 2020, the Bureau has published over 40 ground-breaking investigative stories and podcasts, received awards and nominations from prestigious institutions and trained dozens of young journalists in the craft of public-interest reporting. Recently, the IJB introduced an externship for U of T law students, which, following its initial success, has begun its second year of operation.
"In just a few short years, our programs have grown tremendously –– a testament to the importance of this work despite the enormous challenges of navigating our new media landscape," reads a letter from Brown. "We are proud to now be recognized as one of the nation's most trusted sources of public health information."
The crowd at the Thursday celebration heard a panel discussion moderated by Dean Brown featuring graduates of the Dalla Lana Fellowship in Global Journalism, Drs. Blair Bingham and Radha Kohly, alongside IJB Director Robert Cribb, and Dalla Lana Fellowship in Global Journalism Director Robert Steiner. There were also speeches from Drs. Seema Marwaha and Catherine Varnier, and IJB reporters Declan Keogh and Wendy-Ann Clarke, recipient of the inaugural CJF-IJB Black Investigative Journalism Fellowship.
Capping off the night was the presentation of an Arbor Award, the university's highest honour for volunteers, to IJB Business Advisory Board Co-Chair and journalism aficionado Gerry Gotfrit.
"He's kind of a unicorn," director Cribb said of Gotfrit. "There aren't many people in this country at his status, stature and background who care so deeply about investigative journalism."
Selected photos from the event
Speakers at a Nov. 24 celebration of journalism at the Dalla Lana School of Public Health gather for a photo. Credit: Jenna Muirhead Photography

Gerry Gotfrit with some of the Investigative Journalism Bureau team at a Nov. 24 celebration at the University of Toronto. Credit: Jenna Muirhead Photography

A Nov. 24 panel highlights journalism at the Dalla Lana School of Public Health. From left to right: Adalsteinn (Steini) Brown, Robert Steiner, Blair Bingham, Radha Kohly, Robert Cribb. Credit: Jenna Muirhead Photography

Gerry Gotfrit, the Investigative Journalism Bureau's co-chair and founding supporter, accepts his 2022 Arbor Award at a Nov. 24, 2022, celebration at the University of Toronto Faculty Club. Credit: Jenna Muirhead Photography

Declan Keogh, the Investigative Journalism Bureau's senior reporter, discusses his journey to the IJB at a Nov. 24 event at the University of Toronto Faculty Club. Credit: Jenna Muirhead Photography

Wendy Ann-Clarke, the inaugural CJF-IJB Black Investigative Fellow, discusses her first two months with the IJB at a Nov. 24 event at the University of Toronto Faculty Club. Credit: Jenna Muirhead Photography

Attendees at the Nov. 24 celebration heard from a featuring current and former Dalla Lana School of Public Health journalism luminaries. Credit: Jenna Muirhead Photography

Dean Adalsteinn (Steini) Brown discusses the IJB's impact at a Nov. 24 event celebrating two years of impactful journalism. Credit: Jenna Muirhead Photography

The Dalla Lana School of Public Health journalism impact report. Credit: Jenna Muirhead Photography

IJB journalists, friends and supporters gathered at the University of Toronto's Faculty Club on Nov. 24 to celebrate two years of innovation and achievement. Credit: Jenna Muirhead Jenna Muirhead Photography