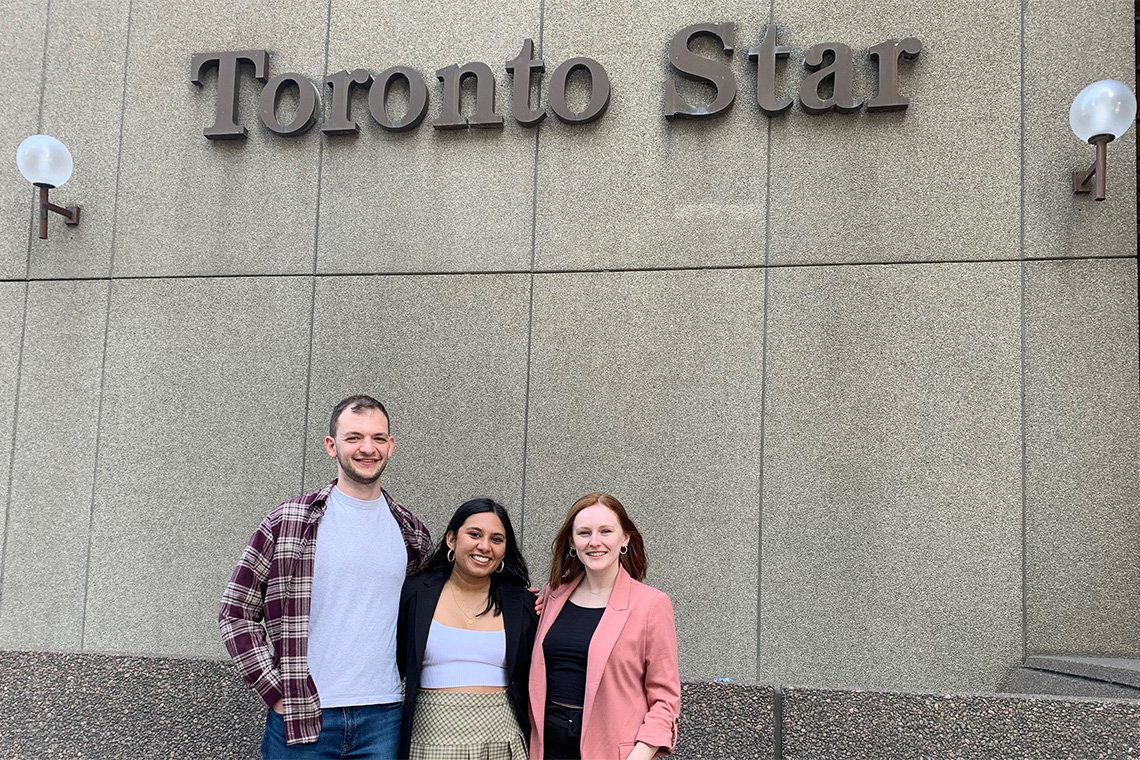 This story has been reposted from U of T News. The original article can be found here.
By Nina Haikara
From working with in-house counsel experts to advancing social justice initiatives and providing information about access to justice services at legal aid clinics, the University of Toronto Faculty of Law continues to offer its JD students first-hand experience through for-credit externships with outside partners, as well as paid summer fellowships.
Three U of T Law students recently had the opportunity to work with the Investigative Journalism Bureau (IJB) – based at the Dalla Lana School of Public Health – as well as the Toronto Star and parent company Torstar's legal counsel. The externship began in September and finished at the end of April.
"The overarching narrative of this externship was media law considerations at Toronto Star," says law student Sabrina Macklai,who will enter her third year of study this fall.
"We worked with the IJB, doing things like filing FOIs – Freedom of Information Requests – appeals and other assistance. On the flip side, we helped Torstar's legal counsel, Emma Carver, with various tasks from prepping court materials to trial."
The externship was co-taught and supervised by Carver, media lawyer Iris Fischer, a partner at Blake's LLP, and investigative journalist and Investigative Journalism Bureau founder Robert Cribb.
"We created the externship to provide law students with real-world experience in the exciting and fast-paced landscape of media law and public interest journalism," says Carver, a graduate of U of T Law.
"Dan, Sabrina and Jane infused our newsroom with fresh energy and creative thinking and provided invaluable support to the IJB's journalists. I believe it's important to get law students thinking early on about how freedom of expression, open courts and responsible journalism are essential to our democracy and social fabric, and about the role media lawyers play in helping journalists do their work.
"Each law student made tangible contributions in these areas, which is something we are excited to continue in the coming years."
U of T Law student Jane Fallis Cooper, who will begin her third year of the JD program this fall, says the information sessions organized by Fischer and Carver helped ground the cases they worked on.
"They brought in interesting people who have done investigative journalism at various levels of the Star and a court justice, who gave us primers on different areas of media law, such as defamation," Cooper says.
Fischer, meanwhile, says it was gratifying to see students interacting with guests on a range of cutting-edge media law issues.
"It's incredibly motivating to work with such talented students," Fischer said. "Dan, Sabrina and Jane really immersed themselves in the legal issues and the stories they worked on and brought a fresh perspective to applying what we discussed in our theory sessions."
Among their tasks, Macklai and graduating JD student Dan Schechner helped draft a factum for an anti-SLAPP motion. SLAPP stands for Strategic Lawsuits Against Public Participation and are also known as intimidation lawsuits.
"Anti-SLAPP is a pretty new addition to Ontario civil procedure and it's a way of trying to prevent specious or meritless litigation that takes up court resources and makes it harder to access justice for people who have real substantive claims," explains Schechner.
"What happens a lot in the media context is the newspaper will write about someone and that person is either unhappy with how they were portrayed or, something else that doesn't amount to a real legal issue with the article. But nonetheless they'll bring a claim for defamation or another claim that relates to the article.
"Anti-SLAPP is a new mechanism that helps prevent against that case from taking up court resources by presenting a motion to get the court to rule it's a SLAPP case and should be thrown out."
Both Macklai and Schechner had previously worked with student newspapers but couldn't have imagined the depth of legal considerations that go into a publication before print.
"Who should we reach out to for comment? How long is a reasonable time to give people to get back to you for comment? What are the legal implications of certain investigations? Do we need to ask for copyright clearance for this image, or can we just avail an exception? There are a lot of nuances," says Macklai.
Fallis Cooper worked with Investigative Journalism Bureau cases related to hospitals and the health-care system, which she found particularly relevant during COVID-19. The cases allowed her to combine her legal knowledge with her previous studies in bioethics.
"Rob [Cribb] kindly allowed me to sit in on IJB meetings, where I was able to discuss both ethical and legal issues related to the students' investigations," Fallis Cooper says. "Additionally, as a final project, I looked into undercover journalistic principles and the law. I've done interviews with investigative journalists who have done undercover work and was able to combine that with legal research to create a legal primer on the subject."
"Bringing law students together with journalists to work collaboratively on real-world investigations was a remarkable innovation that elevated our shared work, helped us expand our journalistic reach and impact, and produced some real moments of magic along the way," says Cribb. "This is a novel approach that I believe holds tremendous potential."
The U of T Law students hope the Investigative Journalism Bureau externship will be offered again in future years and encourage their law classmates to consider other externships.
"One thing that I really liked about the externship was that it was very flexible to our individual interests," says Schechner. "The highlight for me was working with journalists one-on-one on a variety of small motions.
"Everything would be run by Emma, of course, because we're not lawyers and can't give legal advice – but playing the part, thinking through real problems that non-lawyers were facing when interacting with the legal system was really interesting."
Macklai agrees.
"I love being at the law school, but going to the Toronto Star every Friday to talk to people who are not in law school and are not lawyers let me learn so much more about how the law interacts with people and influences their work," she says.
"It's very, very cool to see how things you read about in class are applied at the Toronto Star. "
Schechner says he was prepared to wrap-up his final year with coursework, but the externship was an opportunity he couldn't pass up.
"Media law was something I've always been interested in. In hindsight, my law school experience wouldn't have felt complete without it."