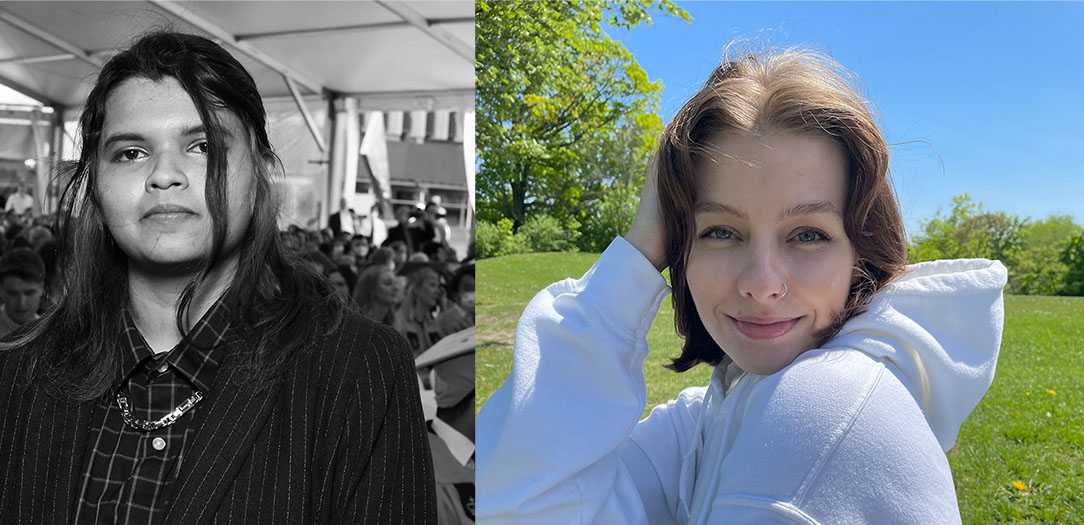 The reporters were hired through the Unifor-funded internship program
Two talented journalists are joining the Investigative Journalism Bureau this summer as part of an internship program helping to develop the next generation of Canadian investigative reporters.
Norma Hilton and Alina Snisarenko will spend four months working on public-interest investigations under the guidance of IJB staff. The pair shined as top contenders for this year's IJB/Unifor Investigative Summer Internship program, which received over 50 applicants from around the world. The initiative is funded entirely by Unifor, Canada's largest private sector union.
Hilton, who completed Columbia University's Graduate School of Journalism in 2021, has already been working part-time with the IJB as part of the Dalla Lana School of Public Health's Fellowship in Global Journalism.
"The IJB team has shown time and time again that we cannot shirk our responsibility to reveal the truth to the public and that resonated with me," Hilton said.
Hilton brings extensive national and international investigative reporting experience to the IJB. She's previously worked with the Mississippi Center for Investigative Reporting and the podcast ¿Qué pasa, Midwest?, among others.
"I'm keen to work with the IJB team on stories of massive public interest, to continue developing investigative skills across mediums and make complex stories accessible and available to everyone," she said.
Snisarenko, whose passion and drive for public-interest journalism set her apart from other applicants, said winning the internship is a dream come true.
"This is the first time I'll get to do investigative work full-time while being surrounded by people who truly care about the stories they produce and their impact," said Snisarenko, who has worked with the CBC's local Toronto newsroom and radio shows.
"I'm looking forward to being part of such a passionate team that treats their reporting with immense care and empathy. The next four months will be an incredible learning experience."
A history of supporting Canadian journalism
This is the fourth year Unifor has sponsored the IJB's summer internship program.
The prestigious program has already helped six early-career journalists hone their investigative reporting skills. It is among the best-paid journalism internships in the country, with each intern receiving a $13,000 salary while at the IJB.
"Unifor is thrilled to be involved with the IJB summer internship program," said Unifor National President Lana Payne.
"This is an investment in the future of quality, fact-based investigative journalism in Canada and young talent. We are proud to see journalists step up, ask the hard questions and tell the stories that matter to Canadians."
Unifor's dedication to Canadian investigative journalism and the IJB's unique model extends beyond the internships. The union also sponsors the CJF/IJB Black Investigative Journalism Fellowship program, which brings an early-career Black reporter to the IJB for six months.
Together, the two programs establish Unifor and the IJB as leaders in fostering top journalism talents in Canada.
"Our partnership with Unifor has deeply enriched our journalism and our ability to help develop an emerging group of young reporters who are passionate about investigative work and the positive impact it can have on the world," said Robert Cribb, founder and director of the IJB.
"This is legacy work that will foster journalistic careers and the public's right to know for many years to come."
Danielle Orr, who did the internship in 2021, is currently a reporter with the Humber College StoryLab's Surviving Hate project.
Orr was part of the IJB team that recently won this year's Canadian Association of Journalists Data Journalism Award. Orr spent part of her time at the IJB working on Suspended, a sweeping investigation into an Ontario road-safety program that is vulnerable to abuse and misjudgement by doctors and government officials. That series is also a finalist for the 2023 CJF Jackman Award for Excellence in Journalism, one of Canadian journalism's most prestigious prizes.
"As an intern at the IJB, you get hands-on experience reporting on large-scale investigations that can make a direct impact," said Orr, who was also one of the IJB recipients of last year's Mindset Award for Reporting on the Mental Health of Young People.
"My advice to incoming Unifor interns is this: Make the most of your time here. You never know where it may lead."
Past interns have gone on to work for some of Canada's leading publications, including the IJB, the Toronto Star, The Walrus, The Local and the CBC.
Inaugural CJF/IJB Black Investigative Fellow Wendy-Ann Clarke spent the last six months investigating Indigenous mental health issues. Working at the IJB has been a "gift" because the unique model "allows us the time and space necessary to effectively report on marginalized communities," she said. "We're able to do the work necessary to rebuild trust broken for centuries between Indigenous peoples and the media."
Clarke's tenacity and reporting prowess during the Unifor-supported fellowship has led to a full-time reporting position with the IJB, beginning in May 2023. She joins a long line of IJB reporters who rose through the ranks from internship positions to full-time employment.
"The IJB's standard of excellence has made me a more thorough reporter as well as a better listener and thinker. In a short time, this opportunity has significantly improved my reporting skills and expanded my professional scope," Clarke said.
Thea Gribilas did the internship last year. The Toronto Star hired her as a breaking news reporter shortly after completing the program, something she attributes in part to the internship: "The IJB … provided me with opportunities that I would never have had as an early-career journalist."
Now, she's using the investigative techniques she's learned to deepen her reporting at the Star.
But she carries more with her from her internship than the skills she acquired.
"Last summer I was blessed to meet some of the most incredible people in the industry –– coworkers and friends I'll take with me for years to come," Gribilas said.
Three veteran investigative reporters made up this year's internship hiring committee: IJB Director Cribb; David McKie, deputy managing editor at Canada's National Observer; and Susanne Reber, an award-winning investigative reporter and producer who has created and co-founded two seminal U.S. podcasts, Verified and Reveal.
"Norma Hilton and Alina Snisarenko are excellent IJB summer interns selected from a pool of candidates that gets deeper and richer each year," said McKie, who also teaches data and investigative journalism at Toronto Metropolitan University, Carleton University and the University of King's College.
"I know their contribution will make the IJB's important work even stronger."
About the interns:
Norma Hilton is an independent journalist covering everything from murder-suicides to K-pop. Currently a Global Journalism fellow at the Dalla Lana School of Public Health at the University of Toronto, she's interested in long-form, data driven investigative pieces on human rights issues. She reported on murder-suicides and domestic violence for the Mississippi Center for Investigative Reporting and worked as a producer on the WNIN's podcast, ¿Qué pasa, Midwest? Before graduating from Columbia University's Graduate School of Journalism in 2021, she covered the #MeToo movement in Saudi Arabia and protests in Chile and Belarus. She received the British Council's Future News Worldwide award in 2018 after covering the Rohingya crisis, visiting refugee camps in Cox's Bazaar, Bangladesh in 2017. Her work has appeared in The Conversation, The Canadian Press and The National Post in Canada; the Mississippi Free Press in the United States and the Special Broadcasting Service and Australian Broadcasting Corporation in Australia.
Alina Snisarenko is an upcoming graduate from TMU's journalism program. Prior to the IJB, she spent six weeks interning at CBC's Toronto local newsroom, where she continues to occasionally help produce the afternoon radio show.