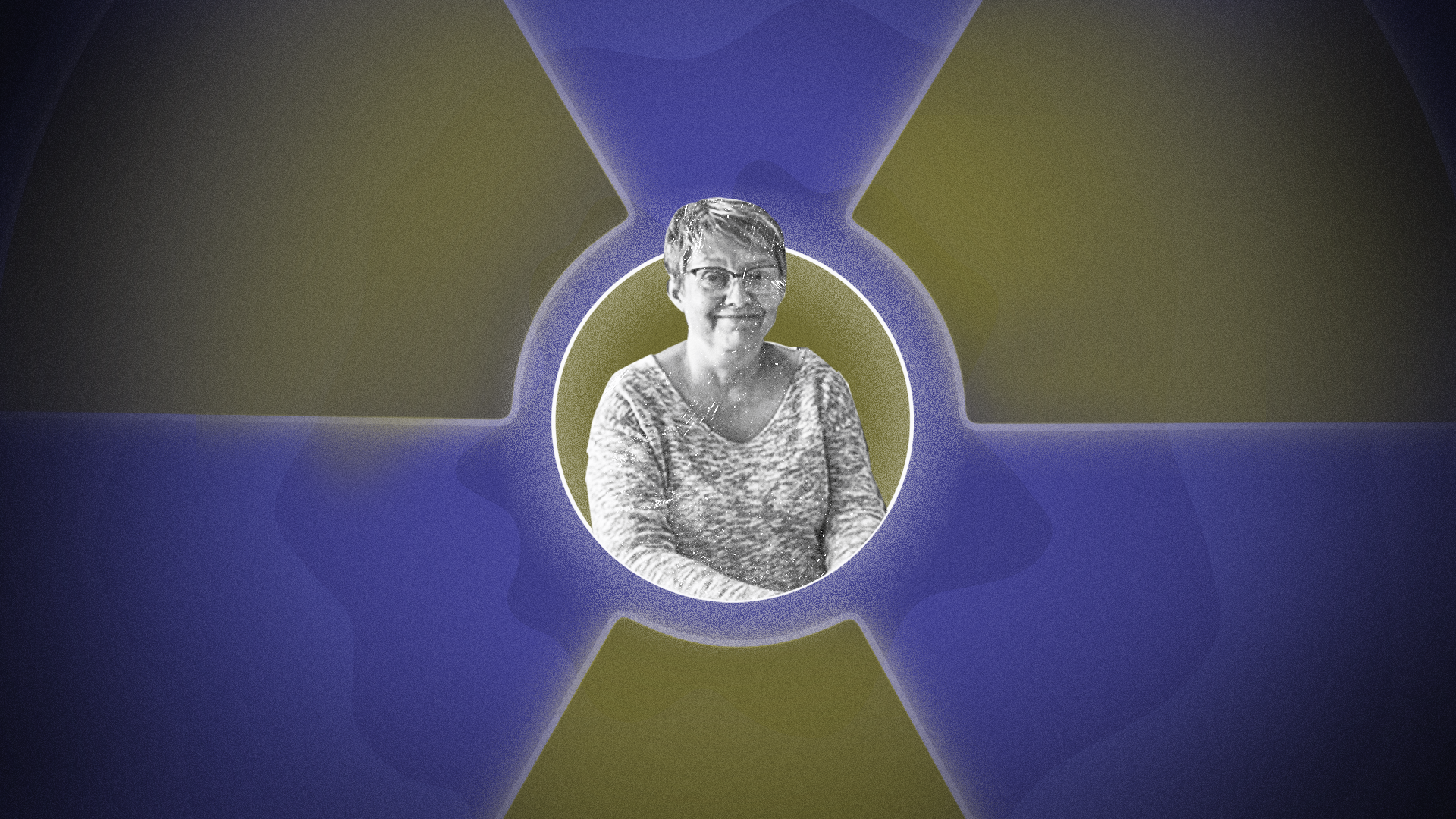 Health Canada defends its policy while a chorus of experts and cancer patients say a change would save lives
By Masih Khalatbari and Declan Keogh
When Traci Burke tested her home for deadly radon a decade ago, the results brought her relief.
The reading came in just below Health Canada's safety guideline for the odourless, invisible natural gas that is responsible for an estimated 3,000 lung cancer deaths every year in Canada.
Believing the home where she lives with her husband in Rocanville, Sask., was safe, the pharmacist did nothing.
"I just thought if it came back as a pass, then I can just forget about it."
Then, in the summer of 2021, the 55-year-old was diagnosed with Stage 3 lung cancer.
An avid runner and non-smoker, her initial reaction was disbelief.
"Of all the cancers I thought I would get, this was on the bottom and [it] didn't even cross my mind that I could get lung cancer," she says.
Following the diagnosis, as Burke cast around for how this happened to her, she learned something few Canadians know—the country's radon guideline is twice that of the World Health Organization (WHO).
That disparity has created a false sense of security for millions of Canadians who are unwittingly breathing in dangerous radon levels that claim lives, an Investigative Journalism Bureau investigation has found.
Health Canada's radon guideline is 200 Bq/m³ while the WHO's is 100 Bq/m³.
"The use of 200 Bq/m³ as an administrative action threshold in Canada is likely why a large percentage of people are being exposed to, in some cases, very high lifetime radiation doses from radon," says Aaron Goodarzi, a University of Calgary researcher and director of Evict Radon, an organization of Canadian scientists and scholars focused on the nation's radon issue.
"They think—or are told—that they're safe, but in fact, they're not … (The guideline is) twice where people's risk (of lung cancer) is clear based on the medical evidence."
Up to a third of the roughly 42,000 homes in the ongoing Evict Radon National Study show radon levels below the Canadian guideline but above the WHO guideline. That translates into "millions of people who are going to be exposed" to enough radon to increase their risk of developing lung cancer, Goodarzi says. 
Some Canadians living in homes with radon levels below Health Canada's guideline will be exposed in the long term to radiation doses comparable to the dose that NASA calculates astronauts would receive from a 500-day mission on the surface of Mars, Goodarzi says.
The gap between the two guidelines also appears to have a direct impact on how many people die from lung cancer, according to a 2012 study by Health Canada's Radiation Protection Bureau. It estimated that 927 lung cancer deaths would have been prevented the year before by mitigating homes with radon concentrations above Health Canada's 200 Bq/m³ guideline. But using the WHO's guideline of 100 Bq/m³ would have saved more than 700 additional lives that year, researchers found.
Many experts advise Canadians to mitigate any radon level over 100 Bq/m³.
Digital radon testers, usually between $150 and $250, are available in stores and long-term test kits that are sent to labs for analysis typically cost around $50. Mitigating typically involves installing a fan to vent the toxic gas from the home or sealing cracks in foundations, and it usually costs between $2,000 and $5,000.
"Health Canada really has no excuse for maintaining a standard that is now double the current recommendation from [the] WHO," says Lisa Gue, a national policy manager for the David Suzuki Foundation who wrote a 2015 report criticizing the national guideline.
"It's really problematic for the federal government to be holding the standard at a level that is artificially high."
That's because among all the harmful environmental contaminants Canadians face, Gue says, radon is one of the easiest to manage and control.
Canada's national guideline was set at 200 Bq/m³ from 800 Bq/m³ in June 2007, just before the WHO lowered its guideline in light of new research showing exposure to radon levels at 100 Bq/m³ can still pose serious health risks.
A David Suzuki Foundation report published five months prior to the change had denounced Health Canada's plans.
"The most disturbing aspect of the proposed radon guideline is that it would condemn thousands of Canadians to dying unnecessary and preventable deaths from lung cancer in the years ahead," the report says.
Today, Health Canada still stands by the guideline.
"When we talk to Canadians about radon, the focus isn't on the number," says Kelley Bush, manager of Health Canada's National Radon Education and Awareness Program. "The focus is on the risk and what they need to do to reduce that risk."
She says that while Canada's guideline is a matter of ongoing discussion within the department, the current threshold is partly guided by the country's high level of naturally occurring radon.
"Canada is amongst the top five uranium-producing countries," Bush says. "We have generally a higher average level of radon. So one of the things that went into the decision of setting the guideline level was making sure that it was reasonably achievable to get below that guideline level."
Burke, who has undergone chemotherapy, says Canadians like her should not be misguided into accepting a higher level of risk.
"They have to re-evaluate that number," she says. "I thought I was safe because … they said everything was okay."
Lack of public awareness
Jill Hall was diagnosed with lung cancer in February 2021. She's never smoked in her life.
Then came the second shock: a lung-tissue biopsy convinced her the cancer was triggered by high exposure to radon. She says testing showed her DNA had been damaged in a way that made her more vulnerable to the disease—a finding she describes as "the nail in the coffin."
Hall, a realtor and former nurse now in her mid-50s, had tested nearly every home she has lived in and found high radon levels throughout. Her family has since mitigated all their homes with high levels. After mitigation, radon levels in Hall's current Chilliwack home—once reaching 685 Bq/m³—dropped to 10 Bq/m³.
Her diagnosis was "just inconceivable, like I was living a nightmare," she says.
Along with her cancer fight, Hall has taken on a role as an advocate pushing for greater public awareness and government action. She estimates she's phoned or emailed dozens of government officials across B.C.
She and her brother helped get radon tests completed at roughly 150 houses in and around Chilliwack. She says about a third had radon levels above Health Canada's guideline.
"I'm on this drive for radon awareness because I don't want ignorance and a lack of knowledge to affect other people," she says. "Most people die silently. I refuse to do that."
Radon testing rates in Canada are notoriously low, public awareness efforts have been largely ineffective and there is little financial support for those who want to fix the problem in their homes.
Many never test their homes and most of those who do don't mitigate the risk—even if they think the levels are unsafe, new research shows.
A 2022 Evict Radon survey of nearly 2,400 Canadians who have tested their homes for radon reveals just over a third with high levels took action to reduce it. Another third procrastinated or declined to reduce radon, even though they had the money to fix the problem.
More than a quarter of those surveyed said they couldn't afford to pay to mitigate the risk.
Only Saskatchewan and Manitoba have rebate or tax credit programs, with charities filling in the gaps elsewhere.
Survey respondents who said they couldn't afford mitigation were generally younger, more likely to have children, lived with more people and had substantially less money than other groups.
"There are some people that said, 'I will never be able to afford this, this is not something I'm going to be able to deal with,'" says Cheryl Peters, co-author of the study and senior scientist for cancer prevention at the BC Centre for Disease Control and BC Cancer.
"Do you remediate your home for radon or put food on the table?"
Canada's elevated guideline adds to the confusion many Canadians face over whether to invest in radon remediation.
Just over half of respondents surveyed by Evict Radon and University of Calgary researchers would not spend $2,500 to mitigate their homes if radon levels were under the Canadian guideline but above the WHO guideline.
Risk mapping
Inconsistent public messaging around radon is a problem across North America.
Governments in Canada and the U.S. have mapped radon levels across the two countries showing areas of elevated risk.
The messages conveyed by those maps are hotly contested in both countries.
Based on the U.S. map, released by the Environmental Protection Agency in 1993, officials first estimated that one in 15 homes in the United States has elevated radon levels—a figure that remains cited by the agency today. The EPA radon action level is 148 Bq/m³.
"For 1993, it was a good first-time effort," says Jane Malone, interim executive director and national policy director for the American Association of Radon Scientists and Technologists. "But its accuracy was always going to be limited."
Ben Washburn, a spokesperson for the EPA, says the agency has been working to update its information. But Malone says radon testing regulations aren't standardized across states. As a result, states with stronger regulations and more testing can show higher radon levels, and the map shows abrupt changes in those levels along state borders, which is geologically inaccurate.
In Missouri, for example, all testing is voluntary. So while Missouri is portrayed as having much lower radon levels than neighbouring states to the east and north, the data is skewed, says Laura Turner, who works for the American Lung Association and co-leads the Missouri Lung Cancer Coalition.
"The data that we do have from testing that's been done paints a much different picture of radon risk than what the map portrays."
In Canada, the federal government has created radon risk maps showing percentages of homes with high radon, but experts warn against recreating the misconceptions that exist in the U.S.
"When we started the program and we spoke to the U.S. about the Environmental Protection Agency, one of the first things they say was 'don't develop a map,'" Health Canada's Bush says.
That's because they don't give people accurate information about radon levels in their homes and can be easily misinterpreted by comparisons to nearby areas, she says.
"There is a risk to using those visuals. But there's also a significant benefit because people look at them and they want to know the risk in their area."
Despite the warnings, Health Canada has mapped the problem nationally.
A Health Canada map detailing radon risk by province and territory from 2016 suggests zero to five per cent of Canadians in Ontario and B.C. are living in homes with radon levels above 200 Bq/m³. Health Canada's 2019 map—based on radon levels grouped by health region—shows areas where more than 15 per cent of homes in both provinces have high radon.
Bush says her answer is always the same when Canadians ask her about the risk they face from radon: "I can tell you that you live in an area that's high, I can tell you that you live in an area that's low; I cannot tell you what the radon level is in your home … The only way to know if it's high is to test."
Building codes are another patchwork policy problem.
Canada's national building code, which guides provincial codes, does not require new homes to have full radon-mitigation systems, like fans that vent out radon, to be installed—a step many say would be an economical, common-sense solution.
The national code does recommend that new homes have rough-ins so full mitigation systems can be built later if necessary. But adoption is up to the provinces.
In B.C., only certain regions where testing found high radon levels follow the national code's rough-in requirements. There are no provincial protections in other areas unless a chief building official has evidence of high levels.
Chilliwack does not have any rough-in requirements. But in two nearby municipalities—Abbotsford and Hope—all new homes must be built with the rough-in.
"I don't get why they're segregating us," Hall, the Chilliwack realtor, says. "It's a complete falsehood that we don't have radon here."
A spokesperson for the B.C. Ministry of Housing says that while historic data suggested there were areas of the province with low probability to experience elevated indoor radon levels, the picture is changing.
"New data shows that radon exists in many areas of B.C. where it was not previously known to be a problem. Hence, there is no longer reliable evidence to justify exempting certain areas from the radon rough-in requirement."
While Hall is heartened by the slow signs of change, she says there is much more public pressure and awareness needed before we will save lives like hers.
"I'm kind of the canary in the coal mine."
With files from Mark Horvit, Claudia Levens and Jonathan Jain / Columbia Missourian
This story is part of the Investigative Journalism Bureau's ongoing series Invisible Threat, which is investigating Canadian exposure to radon gas.